Laughter, comedy and humour is something to be enjoyed and is a gift from God
Laughter is astoundingly good and surprisingly powerful! There's nothing quite like it. Could it be a gift from God?
Join us with comedian Hannah Boland and funny guy Sam Chan to enjoy a laugh and think about the God who gave us laughter.
Download the invitation for your friends here or share the facebook event with them.
Date
Thursday 23 March
Time
6:00PM for canapes 6:30PM start
Where
The Stock Exchange Hotel
Edward Room (upstairs)
131 Edward Street map
Cost

$30 for a single ticket
$50 for 2 tickets
$15 for students
(purchase own drinks)

Register online or at the door on the evening.
About Hannah (in her own words!)
"It's not every day a stay-at-home mother from semi-rural New South Wales decides to launch a career into stand-up comedy. Yet here I am, in all my jam-making, yoga-pants-wearing, wobbly-thighed glory.
As a professional muso, I missed entertaining audiences while I was hunkered down cleaning pee off the floor and trying to figure out how to make broccoli not look like broccoli. I've also been through some fairly tough stuff in recent years, which reminded me what a gift laughter is, and compelled me forward to bring that gift to others.
So this is me, finally proving to every school teacher I ever had (as well as my mother) that I can actually make a living being a smart alec. Come see for yourself."
About Sam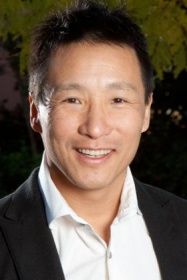 Sam is married to Stephanie with three energetic boys.
Sam is a conference speaker, ethicist, ex-rugby ex-marathoner current Krav Maga (google it!) practitioner.
Sam has lectured in Christian thinking and now works nationally with the City Bible Forum, as well as working part-time as an orthopaedic surgeon. And somehow he also works with an organisation that starts new churches.
Sam has a PhD in theology in something really nerdy.