We all have questions about God and life. We all have doubts.
Finished on 22 Aug, 2013, 12.30pm-1.20pm
We all have questions about God and life.
When it comes to God we all have our opinion and we all have our questions. We think these opinions and questions are worth exploring. We'll do that through our The reason for God sessions.
Our format in these sessions is very relaxed and conversational.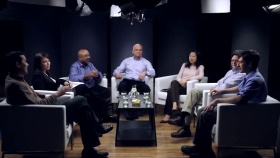 We'll watch a short video as a group of people with objections and doubts about Christianity discuss their ideas with a Christian pastor. Then we continue the conversation responding to what we've seen with our own comments and reflections.
Each session is independent so you can choose to come to one or many of the sessions below.
The days and the topics are:
| | |
| --- | --- |
| Monday 19 August | Isn't the Bible a Myth? Hasn't Science Disproved Christianity? |
| Tuesday 20 August | How Can You Say There Is Only One Way to God? What About Other Religions? |
| Wednesday 21 August | What Gives You the Right to Tell Me How to Live My Life? Why Are There So Many Rules? |
| Thursday 22 August | Why Does God Allow Suffering? Why Is There So Much Evil in the World? |
Our venue: Level 1, 143-145 Ann Street (enter via the forecourt)
Dates & Time: 19-22nd August, 12:30-1:20pm
Register here: There is no cost and you can register here.
This registration is only for The Reason for God sessions. We will send you an email the week before and then a reminder text or email on the day of each session.