Pre-screening for Ben Hur + Reel Dialogue panel This event is at capacity
1369
22 Aug 2016, 6.45pm-9pm
This event is currently full
A Reel Dialogue event that is bigger than Ben Hur!
Partnering with Heritage Films and Paramount Pictures, Reel Dialogue is proud to offer a special pre-screening event of Ben- Hur.
The Reel Dialogue team would like to invite you to a night a cinema and discussion. We will screen the new adaptation of Ben-Hur and then enjoy a Reel Dialogue panel discussion with The Big Picture's Mark Hadley and Ben McEachen who will be joined up front by City Bible Forum's Sam Chan.
This event is at capacity
Synopsis of the film: BEN-HUR is the epic story of Judah Ben-Hur (Jack Huston), a prince falsely accused of treason by his adopted brother Messala (Toby Kebbell), an officer in the Roman army. Stripped of his title, separated from his family and the woman he loves (Nazanin Boniadi), Judah is forced into slavery. After years at sea, Judah returns to his homeland to seek revenge, but finds redemption.
Based on Lew Wallace's timeless novel, Ben-Hur: A Tale of the Christ.
The panel will discuss the themes of the film and allow you to ask questions about the film.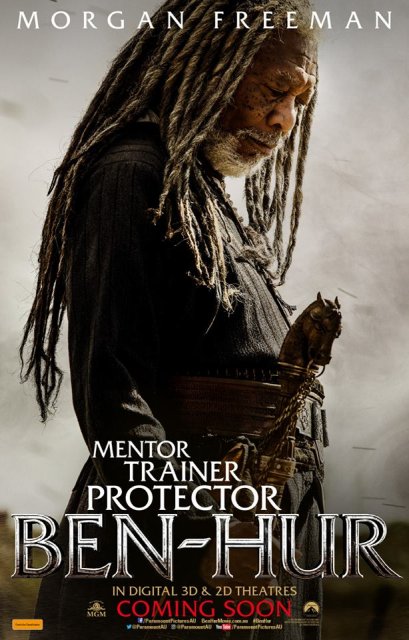 Seats are limited, invite your friends and come along to a great night at the cinema!
Panel:
Mark Hadley has been writing professionally for more than 20 years. He has been a journalist for most of that time, employed by a range of prominent radio, television and web publications including the ABC. In addition, Mark has been reviewing films, television programs and children's books for the past ten years for Australian papers and magazines, nationally syndicated radio programs and internationally read web sites.
Ben McEachen is a professional film reviewer. Seriously. That's a real, paying job. And he's even been at it for more than a decade. He has been editor at Empire magazine, film editor at The Advertiser, lead critic for several News Ltd Sunday papers and a regular fixture on 2GB, ABC and Showtime. Ben also contributes Christian-flavoured film reviews to Eternity newspaper, Hope 103.2 FM, War Cry and Insights magazines.
Sam Chan is a regular speaker at City Bible Forum. He is also a conference speaker, ethicist, ex-rugby player (Sydney Uni 5ths!), retired marathon runner and now a student of Krav Maga (his mid-life crisis activity). His PhD in theology examined the application of speech act theory to the theology of preaching.
It is going to be a great night.... Wild horses should not keep you away!