Which guru got it right?
1813
8 Aug 2018, 12.30pm-1.30pm
Organisers: A fellowship of sub-continental workers is pleased to host the event in Parramatta in partnership with City Bible Forum. An Indian curry and rice will be served from 12:30pm followed by a short talk by Max at 1pm.
Topic: Which guru got it right?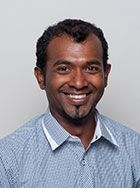 Speaker: Max Jeganathan
Different religions and worldviews seem to favour one over the other, but who is right and how can we be sure?
As a Tamil Australian, Max will explore these issues with specific regard to the challenges and realities of growing up and working in Australia with a dual-cultural identity. How do immigrants and third-culture Australians straddle the influences of multiple cultures in their search for meaning, identity, well-being and validation?
This event is for:
Anyone who wants to come
For people who work around Parramatta
Feel free to invite other people by purchasing additional tickets or encourage them to register
More information: Contact Martin Chung
Find more about Max here