Workplace Evangelism Fundamentals
Go deeper with five fundamentals of workplace evangelism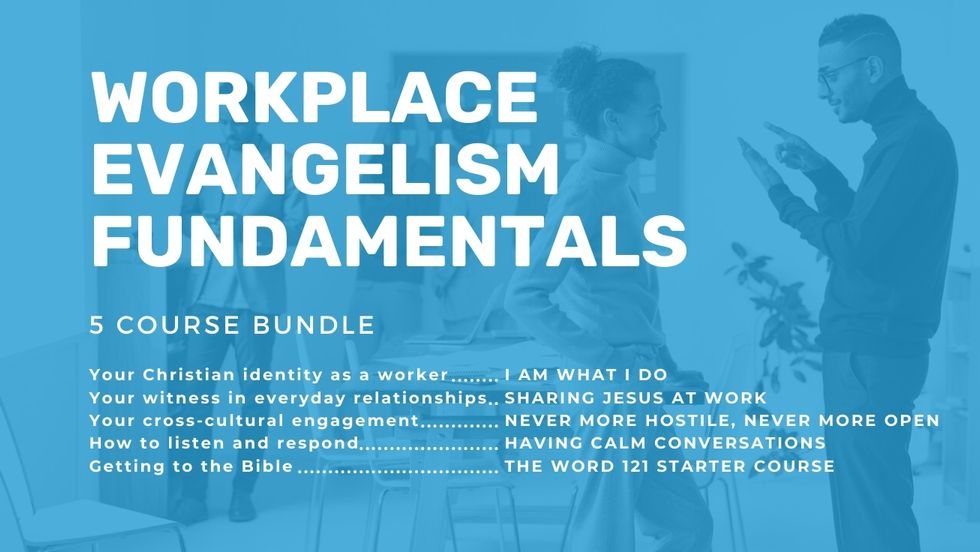 Do you want to share your faith, but you're busy, hesitant about speaking out in a changing culture, or just not sure how to get started?
The Certificate in Workplace Evangelism Fundamentals is for anyone who wants to live out and share their faith in their everyday lives. If you have ever thought about how your faith connects with your work, felt unprepared to engage with "water cooler" issues at your workplace frontline, or simply want to have deeper gospel conversations with your friends and colleagues, then this certificate is designed for you.
We get that sharing the gospel at work isn't easy, and have more than 30 years of experience in equipping Christians for evangelism to pass on to you. The certificate includes 5 fundamental courses that will guide you to share your faith in a way that works for the unique challenges that you face at work:
Your Christian identity as a worker: I am What I Do (Andrew Laird)
Your witness in everyday relationships: Sharing Jesus at Work (Sam Chan)
Your cross-cultural engagement: Never more hostile, never more open (Steve McAlpine)
How to listen and respond: Having Calm Conversations (Caroline Spencer)
Getting to the Bible: The Word 121 (Mark Leong)
We believe that being equipped means having a strong sense of how your faith and work intersect, an understanding of how to engage with our culture, a calm and listening posture, and the support to start reading the bible one on one with friends and colleagues.
Enrolling into this certificate will grant you 18 months access to these five fundamental courses for a cost of $80.
Evangelism pathway
Courses in this pathway aim to build courage, confidence, character and conviction towards having better conversations about God.