Who are we to judge Matt Lodge or Barnaby Joyce?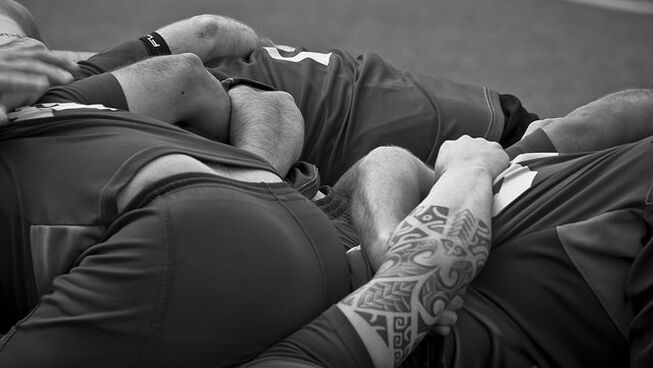 Tonight, rugby league kicks off for another year and Brisbane is buzzing. Not because the first game is Brisbane v St George, but because Matt Lodge is running on to Kogarah oval for the first time as prop for Brisbane. Matt is a gifted player. He's also a player who pleaded guilty for a violent rampage while on holiday in New York. The buzz? Should such a person be allowed to play football professionally? Is this a chance of redemption, or a miscarriage of justice?
Sport seems to be a breeding ground for stories of redemption. Brisbane has played a role before with pocket rocket, Ben Barba escaping controversy and troubles at the Bulldogs involving alcohol, gambling and violence off the field. St George Illawarra have also seen Russell Packer return after a conviction for assault occasioning actual bodily harm. Matt's case is slightly different, he escaped a prison sentence by pleading guilty to a lesser charge. He's been in rugby league wilderness until now. Does he deserve a second chance? Is redemption part of the utility of sport, or does Matt need to somehow pay for his sins before he can earn the right to run around after a ball in front of thousands of people?
Michael Jay educates young players in how to conduct themselves off the field. He says cases like Lodge have undermined his ability to warn younger players. Speaking to ABC Brisbane he said recently, "If you're a good enough player it really doesn't matter what you've done in the past. And young players coming through clearly know that. Young players know that if you're good enough, teams will always find a way to get you back." Football clubs are not rehabilitation services, they're businesses. If a player wins you games, off-field indiscretions can be overlooked. If you're form drops, it doesn't matter how well you behave – you won't be playing.
We see a similar trend in politics, in Australia we recently debated whether Barnaby Joyce should be held accountable for his actions in having an affair with a staffer. But we see it no clearer than in US president Donald Trump who famously declared, "I could stand in the middle of 5th Avenue and shoot someone and I wouldn't lose any voters."
As a society are we losing our grip on our sense of justice? We've let go of absolutes and so now debate whether this or that action is wrong. And if we were to decide that, say, Matt Lodge was ineligible to re-join society in the form of playing rugby league, how would we hope to see him redeemed? If we don't have a firm sense of justice, we haven't a chance at knowing how one might be redeemed having found oneself in the wrong. Only two years ago, Mitchell Pearce was discovered to have disgraced himself and his team after a drunken incident. How did he find redemption? Time out from the game, expedited by time in a rehabilitation clinic. It seems to do the trick, or does it?
If we've let go of moral absolutes, we've lost the ability to hold people accountable to their actions. We're left with the oft tattooed axiom, "only God can judge me". But if we've denied God, then there's no one left to judge me. And so we're swimming in the mess of being unable to tell when someone has crossed a moral line; be they footballers, politicians, or movie stars. The strength of the #metoo movement has not been due to an established moral code, rather it is a popularist movement. In other words, most of us agree that these people have behaved wrongly. But if we can't reach a consensus? It seems that business sensibilities rule. This is shaky ground upon which to stand.
We don't understand justice, and thus we don't understand redemption. Redemption is either too cheap or is impossible. Well if God was the only one who could judge me, where would that leave us? It depends on our picture of God. If God is love and rainbows, we're golden! Redemption is cheap. Except it also means the evil of the world is meaningless, and morality is what I can get away with. On the other hand, if God is an unforgiving ogre, then we're all in trouble and redemption is impossible.
The Bible's picture of justice and redemption is quite different. God keeps us responsible for our actions; evil or good. There is no escaping God's justice. Redemption is near impossible, except for that which comes from God the judge who rescues us from our darkness and delivers us into his own kingdom through the sacrifice of his very Son. This is our redemption, the forgiveness of sins. (see Colossians 1:13-14)
At Easter, Christians celebrate the redemption we have in the costly death of Jesus, the Son of God. We can know justice because we can know the judge and law-maker. We can know forgiveness because the judge redeems us himself by means of Jesus' sacrifice on our behalf. Without this firm foundation, we're at sea morally; blown about by the winds of public opinion.
So can Matt Lodge be redeemed? Not through football. The best we can hope is he keeps his nose clean moving forward. Can we believe in justice? Not without dealing with the only one who can judge us.
Image courtesy of flickr.com/photos/firesmile/
Leave a Comment