Eight ways to display & declare Christmas to your colleagues
At Christmas time people are often more open to considering spiritual things.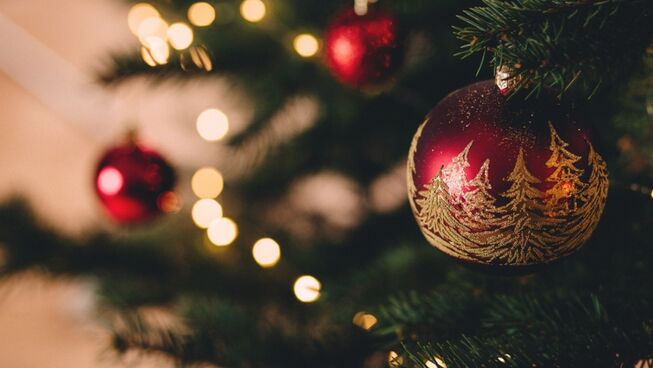 with Robert Martin
Christmas is also about responding to this generous gift of peace and love by being filled with joy (Luke 1:47, 2:10). It's about being thankful (Luke 2:28), adoring and worshipping the extravagant gift giver (Luke 1:46, 2:20). As the Christmas carol urges us, "O come let us adore Him".
So how might the true meaning of Christmas shape the way that we live and speak this festive season? How might we both declare with our lips and display with our lives to our colleagues what Christmas is really all about? Here are eight suggestions:
1. Write thank-you Christmas cards
It's such a natural thing to give cards at this time of the year. So take the time to write one to each of your colleagues and/or boss. What should you include in it? A verse of Scripture relating to Christmas is a simple way of expressing what this season is all about. But also make a point of being thankful. Thankfulness is a hallmark of the Christian life (1 Thessalonians 5:18), especially so at this time of the year (Luke 2:38). So take time to write a simple card to your colleagues, thanking them for what you have specifically appreciated about working with them this year.
2. Give a generous gift
With that card you might also like to give a generous gift, displaying something of the generosity of the God who gave Himself to us at Christmas. I once had a Christian boss who along with a card expressing thankfulness gave each staff member in his team a bottle of wine. It was an office Christmas gift that the staff actually appreciated! The staff all knew that he was a Christian, and they would often comment upon receiving this gift how struck they were by his generosity – he paid for it himself, not out of office petty cash. It doesn't need to be as expensive as a bottle of wine for every colleague – perhaps a nicely wrapped packet of home-baked Christmas treats. But be thoughtful and generous. It's a simple way of displaying something of the character of the generous God that we worship and adore.
3. Be joyful
The true meaning of Christmas should fill us with joy (Luke 1:47, 2:10). So let that joy overflow into your life in the office during this season and be marked by joyfulness. Don't be the Christmas Grinch who doesn't have time to celebrate because of all the work that you need to get done. Instead join in the office festivities, even if you need to work back a bit later that day, and show your colleagues that Christmas fills you with joy. Be the one to bring in some Christmas treats to share at morning tea. Or take the initiative to have your office decorated. Whatever it is, be joyful!
4. Ask questions
Christmas, like Easter, provides an easy opportunity to talk with our colleagues about the true reason for the season. So why not try and open up conversation by asking a few thoughtful questions. For example, ask your colleagues, "What do you normally do on Christmas day?" Get them to share the family traditions that they enjoy. Then ask them "Does Christmas have any spiritual significance for you?" and explore their answer with them. If you're given the opportunity, share something of the significance of Christmas for you.
5. Say something provocative about Christmas
There are plenty of myths about Christmas and we can playfully engage our colleagues with them and so promote the true meaning of Christmas. So saying something like, "I wish they'd take the Christ out of Christmas", offers reflection on the crass commercialisation of the season, which stands in stark contrast to the central message which is Christ coming to be "with us" in humble circumstances. Or you could be provocative to pointing to myths about the Christmas story, saying something like "Jesus probably wasn't born in a stable", pointing to a more recent (and correct) translation of Luke 2:7 which says, "And she gave birth to her firstborn, a son. She wrapped him in cloths and placed him in a manger, because there was no guest room available for them" (NIV 2011). You might mention that this translation more accurately accords with Middle Eastern culture which would never have allowed a woman to give birth in a stable. This can then pave the way to reading the Christmas narratives with your colleagues and opportunities to talk more about the historical record of the event.
6. Be a peace maker
Christmas is about God reaching out to make peace with humanity (Luke 2:14). But it doesn't stop there. If God has made peace with us then we are to be in the business of making peace with others (Hebrews 12:14). Is there someone in your office that you've had a falling out with this year, but you never really properly spoke about the issue afterwards? Be a peace maker and raise it with them, apologise and make amends. Or perhaps others in your office are reminded at Christmas time about broken relationships in their lives. Be the one to inquire and listen to what troubles them at Christmas. And then hold out the hope of the Gospel – a God who is in the business of bringing peace.
7. Be with the lonely
Christmas can be a lonely time for some people. Some might have all their family overseas or come from a family that is dysfunctional. Ask your colleagues and if you find out that they're spending Christmas alone invite them to join you and your family for Christmas lunch. Or invite them to join your family at a local carols service or to join your family watching carols on the television at home. Invite people to be with you this Christmas, a small expression of the God who is with us (Matthew 1:23).
8. Invite others to discover what makes Him worthy of adoration
At Christmas people are often more open to considering spiritual things. And there is no shortage of events or activities to invite them to! So get out there and invite your colleagues to a carols service at your church or in your local community. Invite a colleague who lives nearby to a Christmas Eve or Christmas Day service at your church. One way or the other extend an invitation for them to "come and see" (Luke 2:15-18) the Saviour born that very first Christmas, who is worthy of all our praise and worship and adoration.
Merry Christmas!
Image courtesy: lipmag.com
Leave a Comment