Do religion and football mix? | John Boyers
Football is like a religion to many, so is there a space for faith? How do chaplains help sports clubs?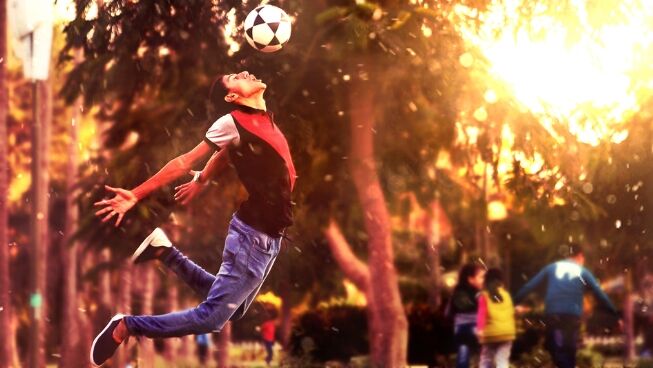 Bible reference(s): Matthew 5:14-16
John Boyers works as chaplain to Manchester United football club. What do chaplains do? What value do they add? Why do big sporting clubs have chaplains?
Bigger Questions host Robert Martin talks with John about the value of chaplaincy and the place of religion in sport.
A great conversation about sport, life and what's really important.
Join us as we ask John some bigger questions.
---
We also give a shout-out to our latest Patrons who support the show on Patreon. Thanks for your support.
If you'd like to help us keep asking Bigger Questions - support the show for as little as US$1 per podcast on Patreon.
---
Bigger questions asked in the conversation
Today I'm with John Boyers, the chaplain of Manchester United Football Club. John was a Baptist minister who has been involved in sports chaplaincy for almost 40 years. He has now retired from full time work with Sports Chaplaincy UK and he's visiting Australia. And he joins me now, welcome John.
History of chaplaincy
John, you're the chaplain to one of the world's largest football teams, how did that come about?
You were appointed chaplain at Watford in 1977 just before they went through a golden period of their history. Then you were appointed chaplain at Manchester United in 1992 just before Sir Alex Ferguson went on to become the most successful manager of all time. Do clubs appoint chaplains as a lucky charm - to seek divine assistance?
Role of a chaplain
What does a sports chaplain do?
How do chaplain's help teams?
We mentioned on Facebook that we were coming to meet you today and asked for some questions, and we got a few. There's one here from Brian, who asks:
Given the intense scrutiny and criticisms the players receive, do players get affected by this chatter?
Another question from Facebook, this time from Roger who acknowledges that Premier League footballers earn a lot of money - how do you support and help young professional footballers who are incredibly wealthy?
Objections to chaplaincy
On an online football fan forum, an article about chaplains in sport was posted and some fans expressed unease at the place of chaplains in sport. One said,
I'm not at all comfortable with it. Religion and football do not mix
What do you make of this? Do religion and football mix?
But why do specifically need chaplains and not a secular person with professional qualifications?
You've also been chaplain at the Olympic Games and in the foundational documents of the Olympics is provision for the spiritual needs of athletes. What are the spiritual needs of athletes?
Do athletes seek out the services of chaplains?
Football reflections
Legendary Liverpool manager Bill Shankly once said,
Some people think football is a matter of life and death. I don't like that attitude. I can assure them it is much more serious than that.
What do you make of that?
Isn't it true that some people treat football a bit like a religion? How do you react to that?
John's Story
Now John you're a Christian believer, what convinced you to become a Christian believer?
Reflections on the Bible
Today we reflect on a passage from the Gospel of Matthew. Matthew is one of the four biographies of Jesus' life that we have and Matthew 5:14-16 says,
14 'You are the light of the world. A town built on a hill cannot be hidden.15 Neither do people light a lamp and put it under a bowl. Instead they put it on its stand, and it gives light to everyone in the house. 16 In the same way, let your light shine before others, that they may see your good deeds and glorify your Father in heaven
What do you make of this passage?
How does this relate to sports chaplaincy?
Do you see chaplains offering, or being light in their clubs?
The Big Question
John, final thoughts, do religion and football mix?