Ep 182: How can young people thrive in an ever changing world?
A pathway to flourishing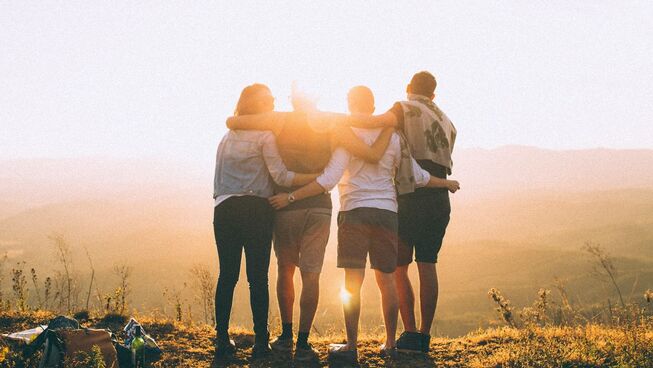 Bible reference(s): Psalm 139.14
It's been a crazy year with many challenges, particularly for young people. With rising anxiety and mental health problems it seems hard to thrive. Yet we meet someone who has found a pathway to help young people grow. A positive conversation with some good news for a change.
Our guest: Sharon Garro. Sharon works as a child and adolescent psychologist specialising in Education and Wellbeing through strengths based practice. She's worked as a psychologist for over 15 years and is presently the head of Wellbeing at Red Rock Christian College - an independent school in Sunbury, north west of Melbourne.
Invest in Bigger thinking for as little as US$1 per podcast on Patreon.
---
Bigger Questions asked in the conversation
What is Red Rock?
Now Sharon you work at Red Rock Christian College - it's not based in Uluru or connected to potato chips is it?
Now Sharon - you're a school psychologist - is it common for schools to employ psychologists? Particularly small schools?
Smaller Questions
Today we're asking Sharon Garro about how young people can thrive in an ever changing world. So Sharon, I thought we'd ask you a smaller question about the challenges young people face in our world today.
Challenges of this current environment
So Sharon, it's been a tough year for many people, particularly young people as they are anxious about the future, the impact of lockdowns on education and mental wellbeing. You're a child and adolescent psychologist - these concerns and anxieties don't surprise you at all?
But what young people are feeling are a concern aren't they?
So in trying to deal with the challenges young people face - what's been your approach?
Sharon's journey
You were studying a Masters of Applied Positive Psychology which was instrumental for you - what did you discover?
Is this different from just being optimistic?
Is this just another educational fad?
Implementing at the school
So armed with all this, you thought about implementing this approach in your school - and hence you approached the Principal - were you nervous before that meeting?
What was it about this that made it so appealing to your school?
Bible's answer - students valued individually
You say that this connects with the culture of Red Rock Christian College - what drives the culture at Red Rock?
There is a Bible verse from the Old Testament part of the Bible - Psalm 139, which says in verse 14,
I praise you because I am fearfully and wonderfully made;

your works are wonderful,

I know that full well.
How is that verse significant for the values of the school?
But the Bible also affirms that humans are also flawed - so isn't this approach overly optimistic about human nature?
The difference it's made?
So how has this approach changed the school?
What difference do you think this makes for the school culture?
The Big Question
So Sharon, how can young people thrive in an ever changing world?
Comments

I am a student at RRCC, and I know Mrs. Garro. She is an amazing teacher and she's so kind to everyone. It was an absolute pleasure to listen in to this podcast!