Ep 177: How can I be mentally fit?
Some surprising tips to building mental fitness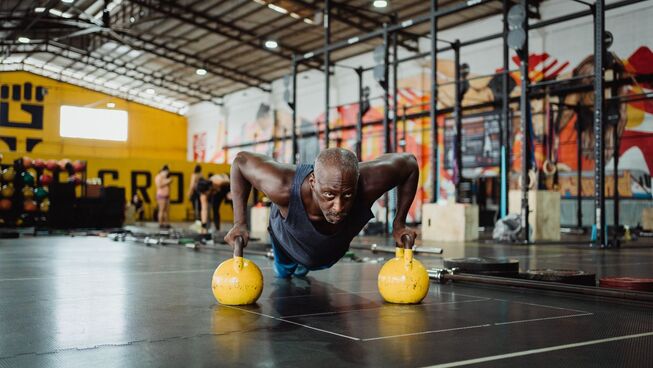 Bible reference(s): Psalm 95
Anxiety, depression and mental health are some of the most pressing challenges in Australia today. To coincide with world mental health day we explore ways to build mental fitness and the surprising role religion can play. A positive, surprising and practical conversation.
Our guest: Dr. Jenny George. Jenny is CEO of Converge International - a leading Australian health and well being solutions provider. Jenny has also been Dean of the Melbourne Business School. She has also served on a variety of boards of not-for-profit entities and sings with the Consort of Melbourne, a semi-professional singing ensemble
This podcast episode will be available on our Monday night Facebook Premiere (and now also on YouTube premiere).
Invest in Bigger thinking for as little as US$1 per podcast on Patreon.
---
Bigger Questions asked in the conversation
You're the CEO of Converge International. So what exactly does Converge do?
Are you busy?
Smaller Questions
Well, to kick off Bigger Questions we like ask a couple of smaller questions - we do try to have a bit of fun on the show. Today we're asking Dr Jenny George about mental fitness. So Jenny, I thought I'd test you on how much you know about "fitness".
The challenge of mental health
So Jenny, building physical fitness and physical health is popular in Australia - but almost half of all Australians will experience some form of mental health condition in their lives. So is building mental fitness and mental health important in Australia today?
In any one year, it's estimated that around 1 million Australian adults have depression, and over 2 million have anxiety. These are staggering numbers and former Australian of the Year Patrick McGorry described Australia as being in the midst of a Mental health crisis? Is crisis too strong a word for describing the state of mental health among Australians?
Mental health challenges are one of the most pressing for the modern worker. How does this problem manifest itself? Particularly in the workplace?
So why is this? Why are we in the midst of a mental health crisis? Is it simply underreporting in the past or are we really more depressed and anxious than ever before?
What has changed about our world to create this situation?
Resilience has been considered a key virtue to develop in coping with mental health challenges, but you say that it's about developing mental fitness - is there a difference between the two? What exactly is mental fitness?
So similar to how we build physical fitness - is it the same concept as building mental fitness?
So people run, or go to the gym, some even do extreme ironing to build physical fitness - what are some key ways of building mental fitness?
There are many who say that walking has helped with their mental wellbeing - so is exercise helpful in building mental fitness?
Irish professional boxer Katie Taylor says that 'mental strength is something you either have or you haven't'. Does the idea of mental fitness challenge this?
Role of religion
There is some research to suggest that religion is good for your mental health. Psychologist Andrew Sims who wrote a book looking at the health impact of religion said,
'When looking at the overall effects of religious belief and practice on whole populations, there is substantial evidence that religion is highly beneficial for all areas of health, and especially mental health.'
Would you agree with his assessment?
But how can this be? Some critics of religion, like atheist Sam Harris compare religion to mental illness, saying religion "allows otherwise normal human beings to reap the fruits of madness and consider them holy'?
So is religion part of the problem? A form of mental illnes
Mental fitness in the Bible
There is a song in the Bible which may provide some wisdom to help grow mental fitness. Psalm 95 from the Old Testament starts,
Come, let us sing for joy to the Lord;

let us shout aloud to the Rock of our salvation.

Let us come before him with thanksgiving

and extol him with music and song.
This speaks about giving thanks to God with music and song. Would an unintended side effect of this actually build mental fitness?
Thanksgiving is a key way of helping with mental challenges
Journalist Wendy Squires once wrote a piece in The Age reflecting on the American Thanksgiving holiday espousing the value of saying thanks. The following day there was a letter in the paper responding to Squires which said, "I couldn't agree more. My only question for you Wendy is, to who?"
Does this matter or is the author of this letter being unnecessarily cheeky?
This Psalm also talks about singing - now you're a singer - is that good for your mental fitness?
The Psalms continues in verses 6 and 7 and speaks about living under the care of God, where the Psalmist writes
Come, let us bow down in worship,

let us kneel before the Lord our Maker;

for he is our God

and we are the people of his pasture,

the flock under his care.
It speaks about worshipping God. Now some are critical of the notion of worshipping a deity, but could worshipping God actually be good for you or could it make you less fit because you have to rely on someone else?
This message in the Psalm is spoken to a worshipping community, 'he is our God', so how does the notion of being in a community help?
Now this passage isn't speaking necessarily about how to be mentally fit - it's speaking about praising the God for who he is and what he's done for his people. But would it be fair is it a potentially valuable side-effect is that following the message of the Bible may help with your mental fitness?
But this is not to say that Christians don't suffer from mental health challenges?
So if you're really struggling with mental health - should you try God? Could it help?
Has God helped with your mental fitness do you think?
The Big Question
So Jenny, how can I be mentally fit?