La La Land
The perfect fusion of music, romance and drama - Best choice for Boxing Day and New Year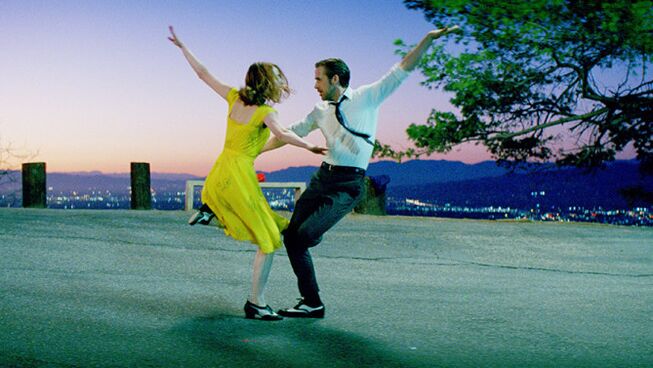 4.5 out of 5 stars
Walking into the cinema...
What is this film? A musical, a rom-com or a monument to a by-gone era? We loved Damien Chazelle's 'Whiplash', but is La La Land asking too much from audiences?
"How are you gonna be a revolutionary if you're such a traditionalist? You hold onto the past, but jazz is about the future." - John Legend as Keith
As the quote from the film's band leader conveys, La La Land is a cinematic statement that has its foundations in the heritage of music and film, but with an eye to the future. It is difficult to categorise this project, because it can only be described as an unique fusion of music, romance and drama that deserves to define a new genre. Regardless of the confusion that comes with defining this project, there should be no hesitation for audiences to get out to enjoy this triumph by the celebrated director of Whiplash, Damien Chazelle.
The story brings together an aspiring actress and a jazz pianist who both pine for the future, but keep their feet standing squarely in the past. Mia (Emma Stone) desires to get out from behind the counter of the local coffee shop, but gets knocked back with every audition. While Sebastian (Ryan Gosling) aspires to own his own jazz club, but finds it hard for people to capture his musical vision. When these two come together, it is like the fusion of two worlds that should not mix, because their attraction brings out the best and worst in their lives. This fascinating love affair is conveyed through song, dance and a well choreographed script that is set within the beauty of the multi-layered aspects of the Hollywood landscape.
Emotions cannot always be communicated through mere words and Chazelle has found a rare manner of conveying his story through a satisfying combination of song, dance, jazz and exceptionally talented performers. This cinematic fusion is hard to define, but the young writer/director has found a marvellous way of communicating to audiences a beautifully endearing story. Gosling and Stone carry this film with a convincing level of commitment that provides the strength of character to match the script. They do not try to become musical artists, but show that they can convincingly sing, dance and play the piano. Their passion for these artistic crafts and for one another provide the convincing and satisfying performances needed to make this genre-bending project successful.
What Chazelle manages to do with this screenplay is to develop an appreciation of the past, but seeing the essential need for forward motion. This dichotomy can be seen in the world of jazz, in the hard-fought world of the thespian and in the re-imagining of the modern musical. He awakens both the hearts of the traditionalist and the dreamer to believe that all that is happening on screen could come true. This can be a celebration for some and a difficulty for others to stomach. This could be considered a warning for audiences. If people come expecting the same Hollywood formula, they will be disappointed. This is a fresh perspective on filmmaking that will eat away at your soul for some time after leaving the theatre. It will make many cheer for its originality, but will make some uncomfortable because it is unlike anything else in cinemas. It's strength could be considered a weakness, but there is little doubt that Chazelle cares.
Whether it is seen in history as a triumph or merely experimental, this is a film that can be described by it's own script as 'A dream! It's a conflict and it's compromise and it's very, very exciting!' To miss this film in theatres would be a travesty, it will move you in ways you do not expect.
REEL DIALOGUE: What are some of the bigger questions to consider from this film?
How do you communicate? La La Land shows that people can communicate through words, song, dance and even through a look. God has wired us all to convey our emotions, desires, dreams and thoughts to Him and to others, but sometimes we have to find the best means to share the things of life. This creator God has moulded creative beings and he desires for us to communicate with Him. He makes this possible through prayer. How you communicate with Him is not as important as communicating with Him. How do you communicate with God? Find it and get started. God is listening.
Passages on prayer and communicating with God: Psalms 141:3, Matthew 6:5 -15, Colossians 4:6, 1 Thessalonians 5:7
Leave a Comment