3.5 out of 5 stars
In our modern society, it would be fascinating to know how many people know that libraries even exist within their communities. They have been an integral part of western culture throughout the centuries, but many have been forgotten. They provide public access to knowledge and open the door to resources to assist anyone who is looking for 'that book' or reference guide. As they have been marginalised by search engines and e-readers, it is no wonder that the marginalised of society have found their place within their walls.
Emilio Estevez (The Way Back) comes back to cinemas after a six-year hiatus to write, direct and star in a film about libraries and those who inhabit them. He plays the role of Stuart Goodson, a quiet and reserved librarian at the downtown library in Cincinnati, Ohio. A building for people looking for information, cheap internet or merely trying to get out of the cold. The homeless, mentally ill and forgotten of the city have learned that the library is a safe and warm place to be during the cold winter days.
When all of the homeless shelters are at capacity during a bitter cold snap, some of the regular patrons decide to hold a nonviolent occupy-style sit-in. This action goes from being a mere annoyance to a full-blown standoff with the Cincinnati Police Department and the city's chief prosecutor, Josh Davis (Christian Slater). Stuart must determine if he is going to support these homeless men or work to get these men thrown out into the cold of the city streets. Once the media gets ahold of the story, things move from a quiet statement to a confusing mix of misinformation and varying opinions.
Estevez has masterfully managed to shine the light on two aspects of our society that many have forgotten or would prefer not to see. This is a story that manages to humanise the destitute while at the same time accentuating the value of libraries as a centrepiece of our culture. A quiet and understated film that holds a wealth of possibilities for those who are willing to engage with the message it contains. Despite the film's simplicity, both the depth of each character and topics it addresses provide a heart-warming and profound depiction of our world.
Each character has a place and purpose in the film with precise casting choices that support the screenplay. Alec Baldwin is a highlight of the movie as the police negotiator, while each member of the occupy group manages to capture the necessary aspects of this motley crew of outcasts. Estevez provides the understated determination of the unassuming leader that is thrown into a crisis situation. A cast that proves that a good story does not need to be over demonstrative to deliver a compelling character-driven movie.
It is a wonder why the majority of the world had to wait for this film to come to us via streaming services. The Public contains so much of what we need in this era with a bit of hope in humanity added in for good measure.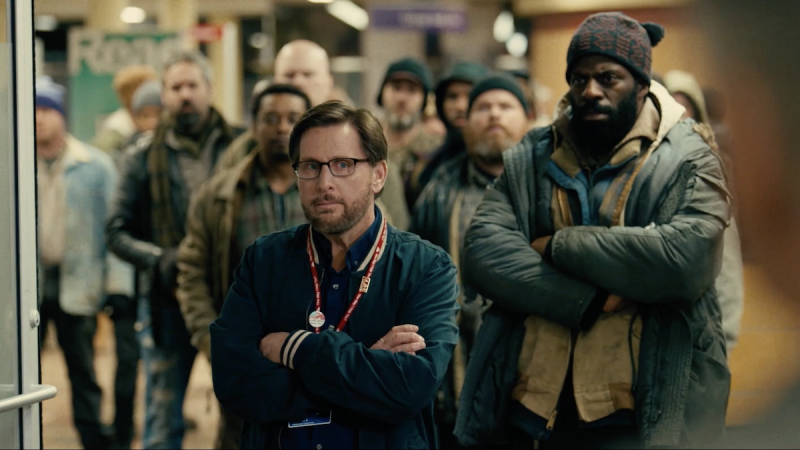 Reel Dialogue: The human side of homelessness
When people talk of the homeless, the range of responses travels from the sympathetic to the disparaging. Yet, one thing that needs to be considered is the needs of those that are doing it tough. Some may be in their position because of poor life choices. At the same time, others may find themselves without a home because of an unfortunate series of events.
Regardless of how they got there, it does not diminish their value. Homelessness and the poor have been part of society throughout history. The Bible shares a fair bit about how we should treat the less fortunate in society, valuing their humanity and caring for our fellow residents of this world. At the core of the Christian message is that humanity's value is not found in the residents of earth's physical residence, but in their relationship with God.
Like the film depicts and the message of the Bible suggests, people in this situation do not need judgement, but help. What can you do to reach out to those in need in your community?
Whoever has a bountiful eye will be blessed, for he shares his bread with the poor. Proverbs 22:9
Leave a Comment