Amazing Grace
Experience Aretha Franklin like never before - Win free passes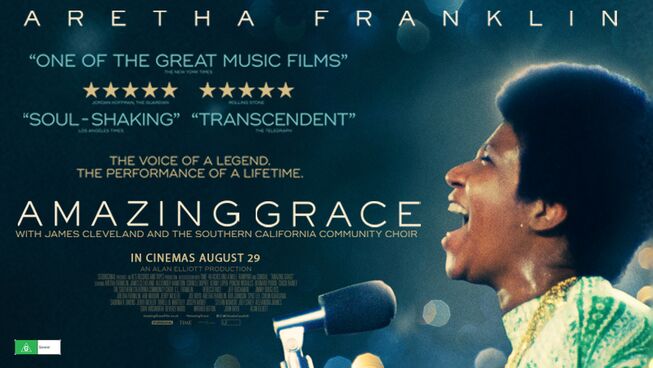 ENTER THE DRAW THROUGH THIS LINK
To celebrate the upcoming Studiocanal release of Amazing Grace on 29 August, Reel Dialogue wants to offer our fans a chance to win a double pass to be utilised in your local theatres.
Synopsis of the film: The never-before-seen music documentary capturing Queen of Soul ARETHA FRANKLIN, as she records the most successful gospel album of all time, AMAZING GRACE with James Cleveland and the Southern California Community Choir.
Recorded at The New Bethel Baptist Church in Watts, Los Angeles in January 1972. AMAZING GRACE is crafted from never-before-seen footage that captures an elegiac moment in American musical history whilst saluting the get-up-on-your-feet gospel heritage that transformed American music in the 1960s.
Official Site: Amazing Grace Movie
#AmazingGrace #studiocanal #arethafranklin
ENTER HERE TO WIN A DOUBLE PASS
Available for theatres in certain Australian cities: Adelaide, Brisbane, Canberra, Hobart, Melbourne, Perth & Sydney
Tickets are only available by signing up for the draw. Only one entry per person.
Pass this opportunity on to friends, co-workers and fans of movies
Competition concludes on Tuesday, 27 August at 10am, with all prizes drawn at the City Bible Forum office in Sydney. Passes will be posted to the winners.
©2019 Studiocanal. All Rights Reserved
(The passes are valued at $40/ticket. The drawing will be held and winners will be posted in the City Bible Forum offices, Level 3, 13-15 Bridge Street, Sydney 2000 at 10am on Tuesday, 27 August. Winners will be sent an email with the passes.)
Leave a Comment
Russ Matthews works for City Bible Forum as the Engaging Manager. He enjoys developing large public forums throughout the city to engage workers with the bigger questions of life. He oversees The Edge and Reel Dialogue.